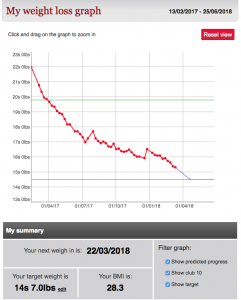 So after a serious chat with Toni, my Slimming World Representative.
I have re-set my target weight as I thought I would last week.
It is quite challenging to know what weight I need to be to achieve the desired out come … However we have left things flexible enough to be able to attain 34 " waist and when that is stable check what weight that is and call that "Target".
For now though, 14,1/2 stone or 203 pounds is a specific enough target.
It has been so long since I was anything close to 34″ waist that I have absolutely no idea how heavy I need to be.
Non Scale Victories
It is close, I have tightened my belt another notch, and have to put some new holes in it … always a great sign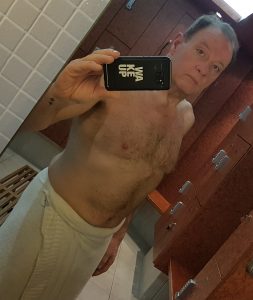 If you look at this picture you can see in all honesty that it is mainly "Love Handles" that need to go. Frankly I cannot believe it when I look at this image, I was at event in London a couple of weeks ago and I was tagged in some ones picture I could not work out why as I just did not recognise myself… HONESTLY … We all know the first [person we look for in a picture is ourselves… well I could not find myself It is so weird.
So the love handles need to go…Well that is as much down to exercise as anything else … I may even get slightly heavier as muscle weighs more than fat.
But lets, for now, not get bogged down with if's butts and maybe's … I have a target to aim at, and that is what truly matters
You Know I always Recommend Slimming World
Have you followed that recommendation yet?
I would have to ask …
How serious are you about getting your weight under Control?
If you are serious … start taking the steps I have laid out in my blog…
I am not writing this purely as entertainment. It is designed to help and guide you…
At some point though YOU will need to get off the fence and start taking action.
I am truly happy to help, so
Please get in touch when ever you need a chat …
Stuckinatruck.com was started for just this purpose … please use it
Remember you can email me anytime at steve@steve-greenhalgh.com
I am always happy to hear from you and to help you with genuine weight challenges
I always recommend Slimming World
Because …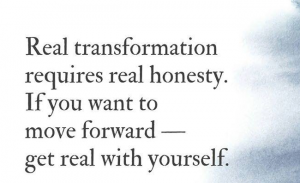 If You Do The Work,
It Works!
Here's to your continued success… BUT lets NOT kid Ourselves