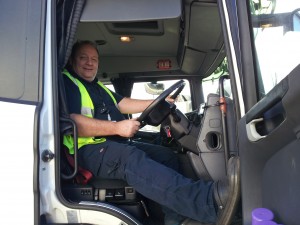 Hi my name is Steve Greenhalgh,
First and foremost Husband and Dad.
I sail small boats Phantoms and Fireballs,
And I was Stuck In My Truck…
In Chemical Distribution for most of My Driving Life Initially with Hayes then on MultiDrop With Thermo Fisher
I suffered a huge injury in 2012 and I became scared of losing my lifestyle…
Work is great, but if you cannot work the bills soon Pile up
I now drive for myself and specialise in wide loads/ oversize
BUT in 2012 I also looked outside transport, and started to learn about Digital Marketing.
I have been working online since May 2012, and went full time in October 2014.
However I really missed driving… I always said I would never go back.
I think the thing I do not miss is the Planners.
Being able to plan my own work, work on my own terms, and not having deadlines or targets allows me to actually enjoy the job in a way so many of us used to do.
Also being appreciated and thanked makes a huge difference!
I also helped to build one of the UK's best Facebook Groups #TruckmateUK… Where all are welcome for Fun And Frolics
Since being able to have control over my income and time, I have become passionate about helping other people to achieve the same.
I use various methods to make that happen, leveraging the power of the internet.
Primarily I work as an affiliate marketer, promoting other peoples products for commissions.*
BUT you will still find me a few days a week "In The Truck"… Showing off with some Ridiculous Load Blocking the road and making lots of Noise …
In all this however,  the sedentary life of a truck driver combined with a drinking problem saw me pile on the pounds…
To The Point that in 2016 I was warned, in no uncertain terms …
That if I did NOT lose weight,
I would lose my vocational licence,
if not my life… I was 25 stone
350 pounds
and at 6'1″ that left me about
8 inches short 0f my ideal height…
a BMI in excess of 45…
How I was living let alone working escapes me…
This blog is about the road BACK from the abyss… learning about my weight issues and finding the motivation to deal with them…
If You are anywhere near where I was   Please understand that YOU can do something about it…
You Cannot take short cuts or take a pill… or pay the jailer with a credit card
You will HAVE to do the work …
But Understand … if I can do this… you most certainly can… Please do not leave it as late as I did…
YOU Deserve a better way of life … and it is achievable…
Do NOT "Get Stuck In Your Truck"