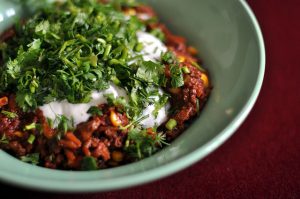 This is a favourite of mine, I used to half the ingredients and do this in the lorry slow cooker.
Or you can batch cook it at home and divide it into 6 seperate  meals to take with you to re-heat… either way, it is a great winter time favourite
PREP TIME 
COOK TIME 
TOTAL TIME 
Slow Cook Time 6 hours
This recipe is gluten free, dairy free, Slimming World and Weight Watchers friendly
Extra Easy – syn free per serving
SP – syn free per serving
For Dairy Free – omit any dairy toppings
INGREDIENTS
500g of 5% fat, lean beef mince
1 onion, roughly chopped
3 cloves of garlic, chopped
1 carrot,  chopped
1 red pepper,  chopped
2 jalapenos,seeds removed and chopped (Fine)
1 tin (540ml) of kidney beans, drained
800ml of cooked tomatoes
1 can (156ml) of tomato paste
3 cups (720ml of beef stock
2 teaspoons of paprika
2 teaspoons of cumin
½ teaspoon of cayenne pepper – optional (omit if you don't like too spicy)
1 tsp of oregano
1 tablespoon of balsamic vinegar
Fry Light of choice
Method
Spray a large casserole dish with "Fry Light" of choice
Warm over medium heat
Add onion and heat until clear
Add Mince and brown( drain any excess fat produced during this stage)
Add Carrots continue to lightly fry
Now add The spices, chopped Toms,Tomato Paste, Red Pepper, jalanpenos, balsamic and stock… Bring to boil
Add Beans stir well, and bring back to a boil.
Reduce heat to simmer add the garlic, Cover and cook for approximately 45 minutes, or until the sauce has thickened.
Serve With Chopped Fresh Corriander, and either 0% Greek Yoghurt or Cheddar ( HEA) and of course a portion of rice
As always if you have any questions please email me here info@stuckinatruck.com
Or join us on Facebook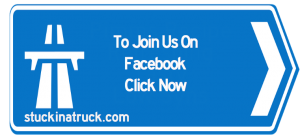 I am sure if I can do this… YOU  Can
Remember you Can email me anytime at info@stuckinatruck.com
I am always happy to hear from you and to help you with genuine weight challenges
I always recommend Slimming World  
Because …
If You Do The Work,
It Works!
Here's to your continued success