I wonder if you remember why I started this weight loss campaign…
Well apart from my getting worried about being thrown of a flight to New York, because I could not do my seat belt up.
My Daughter, Sarah getting married, on Saturday 26th August… and really … I did not want to look like this in the pictures.
If you have been reading the story to date you will know
Start Weight In February 22st.
My Target Weight was 16st 7 pounds
Weight at last weigh in 16st. 13pounds
Loss of 5 st 1 pound
Achieved in 25 weeks
6 pounds off target
I believe the holiday in Spain contributed to the miss… however
If you start this ( hate the word ) journey.
I truly believe that your success will come only, if you learn to forgive yourself, and move on fast..
Look One bad meal or a single bad choice is not the end of the world.
So… get over it, forget about it, Get Back ON PLAN … And MOVE ON.
I have always worked on the principle that I have 21 meals a week… if I have a bad one or even two or three …
Then that still leaves 18 times when I can make the right choice   and that is enough.
I hear so often that some one has given up on the week because the had a sausage roll, or a bacon cob…
PLEASE do not kid yourself into this false set of truths…
WEIGH The sausage roll,is that honestly responsible for you gaining a pound or two in a week…
OF COURSE IT ISN"T
As I said in the early days … [Click Here :- It Starts]
BE HONEST WITH YOURSELF
If You are Not getting The Results You Want  There are Two Reasons
You are NOT doing the work
You are lying to yourself about doing the work
It is as simple as that,
if you do the work
and stick to the plan
YOU WILL Lose Weight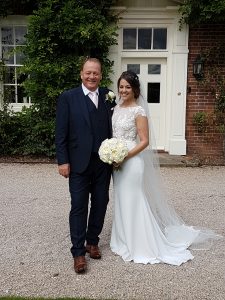 This is my proudest moment, to date.
But do you know the best news?
Because I have taken the action to get my fitness back,
I have a much better chance of being there for the next three weddings ( Should that be the path they take)
and, to enjoy the Grandchildren as and when they start to appear.
I am sure if I can do this… YOU  Can
Remember you Can email me anytime at steve@steve-greenhalgh.com
I am always happy to hear from you and to help you with genuine weight challenges
I always recommend Slimming World  
Because …
If You Do The Work,
It Works!
Here's to your continued success