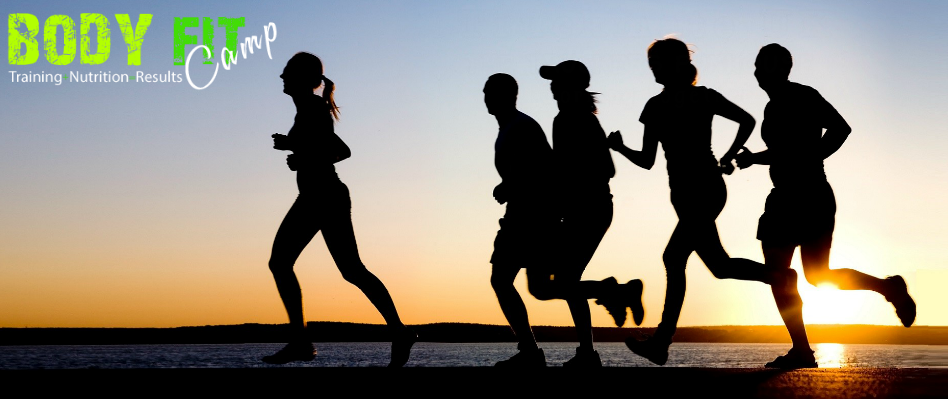 Heading For Bournemouth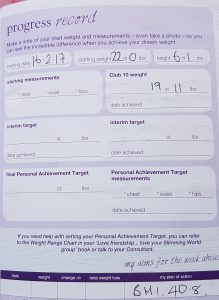 So having survived my first Slimming World weigh in,  See the image for the record
Basically on the 16th of February 2017 I weighed in at 22 stone or 308 pounds! Bear in mind however that I had already come down to that since May 2016 where I was wearing 54inch trousers,  (unable to do them up, perhaps) so I estimate I was probably 25 stone.
My waist at first weigh in was 46 inch, tight, and my BMI was 40.8 … Clinically Obese
#obese #fatbastard… or Mr FatBastard to you!
The astute amongst you may have noticed, there is NO Target Weight… I would NOT set one!
All I wanted to achieve was 36 inch waist trousers, taken in to 35 inch… I had no clue what that would look like on the scales.
Home to Face The Music
So I got home at around 9.00 pm. Judi was sitting there, quietly fuming, waiting for me to come home with some bollocks about it being a different night, or I had got lost, asked in the pub for directions met some one and missed it … she was quietly stunned that I went.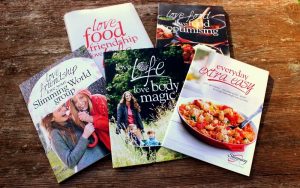 I was still feeling very emotional, but I was hopeful.
I came home armed with "the books" I had a cuddle and a make up session with Judi. Then, we both got into the books. I just looked for "Free Foods" I liked, like fat free bacon, lean chicken. boiled ham, fruit etc.
We "nipped" to Tesco to get snack type things for the next few days, and some 1% milk, and so armed I headed off into a massive learning curve… A learning curve about me!
Bournemouth
So after a lovely drive down with me gorging on ham wraps and fruit, ( ham wraps are something of a staple for me. Basically boiled ham wrapped around thin strips of veg / spring onion, that sort of stuff, completely SYN Free, so basically can eat it all day) we arrived at The Queens Hotel Bournemouth.
I cannot say I was looking forward to it, the lovely vision I had had of 4 days of remembering our time there had been obliterated… they were further destroyed when I read the program of events…
7.00am morning walk along beach
7.30 Breakfast
9.00 kickboxing
10.00 circuit training
11.00 kettle bells
12.00 lunch
13.00 pilates
14.00 circuits
15.00 Kickboxing2
16.00 stretch and balls
17.00 – 18.00 relaxation
18.30 dinner
20.00 stretch and warm down /yoga
For Fucks Sake! The Morning walk along Bournemouth beach was 10 x more than my weekly exercise… and this was only Day 1!
We got to the room, and were met by a little note explaining that as we were on Boot Camp there were to be
NO milk cartons
No Biscuits
No Sugar
No Coffee
No Snacks
I was quite surprised to see that there was a bed, not a stone slab, and actual pillows … #monkscell
I was getting really mardy again, then I looked at Judi… I was being a real Twat with a capital C… she was so happy, so excited.
She had got us this 4 day all inclusive trip from Woucher, all in, for under £400… not each … TOTAL…
4 nights, Dinner Bed and Breakfast and Lunch ( I was snarkily saying shit like, "well we will prolly only get a carrot a day, and a strained glass of water for lunch!" …)
Just bitching and whining, a Royal Pain The Arse, and the person I was upsetting, was the only person who stuck next to me for nearly 30 years!
This was one of those moments when things can go one of two ways.
I could choose to carry on being a C*@t for the rest of the week and destroy Judi's time, OR, I could choose to have a good time.
I went down to the car to get my fruit stash… in that 5 minute time out, I determined to go with it, and just have fun…
I may not be able to do all the activities, but I would try all of them, those that I could not handle, I would miss and go down to the hotel Gym, and either row or steam or swim or even all three. BUT mentally I committed to giving it all a go and even do the morning walks!
I was now in the shit, I had No Kit… I had not brought any Gym stuff with me at all… so on getting back to my room I jumped onto Jacamo on my lap top ordered some cheap T-shirts and jogging bottoms and some flip flops and a pair of trainers … did not spend much more than £35 quid, had the stuff sent overnight to the Hotel, phoned down to tell the desk that I was expecting something, now the difficult bit…
Practice Makes Perfect
I guess in 30 years of marriage I have learned a few things… not least the art of apologising.
If I know I have been wrong or if I know that being right isn't important, I have learnt that I would rather take the loss and make Judi happy than be right … especially as being right makes us both miserable.
So the week at Bournemouth continued… The Sunday evening was weigh in and meet all the others on the Course.
Guess what… apart from The Kick boxing World Champion… I was the ONLY bloke in the room…
BUT and this is what kept me there…
I wasn't the oldest,
and I do not think I was the fattest…
possibly the heaviest,
definitely NOT the Fattest 
So, Mo, ( Kick Boxing World Champ) did his intro speech, letting us know what we were in for, really trying to ease our fears, ( for those that had not been before) and realistically saying to pace ourselves, and that we knew what our bodies could do, and how much we could take…
Mentally I was having a self talk conversation that went something like this…
"Look Skinny, I ain't into this shit, I ain't doing this shit, and No One here is going to make me… I'm going to go for the morning stroll, then do my Hippo gig in the pool for the rest of the day"
I caught myself having this conversation and remembered what I committed to, for Judi… I got rid of the voice in my head, and started to change the shit I was telling myself… ( I had learnt a lot about self talk and mindset from the community in my online business,   ) I knew I had to start talking myself up and getting my head straight… Look three days earlier I had been crying in that shitty, dark, cold village hall, in Melbourne,(Derbyshire,UK) saying to any one who would listen how much I wanted to lose some weight, and yet here I was still fighting it
I committed to Go All IN
FFS Stephen Stop Messing Up and just get on with it …
After weigh in we went for dinner. Not bad, NOT A lot… but what there was, was really satisfying and quite filling. Mo made it clear that the soups were the most important meal or part of the meal… I was not sure what was in it Slimming World terms… but I had little, in fact zero control over what I was going to eat, so I just got on with it… To Be Fair the soups ALL WEEK were HEAVENLY!
I was able to top up on fruit, BUT, there was NO Bread for me and certainly No Butter…
I spoke to Mo and Hannah the course leaders, about Slimming World. Mo did not have a clue, and Hannah was a bit anti the method and the science… HOWEVER, she understood that If I were to achieve my targets I was going to need long term support, and this would only come from the Guys back at home. Four days was all I had here in Bournemouth.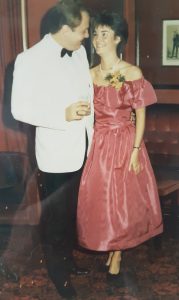 We went for a quiet stroll after dinner, just up the East Cliff Edge, and looked out over the bay to Old Harry Rocks.
God it took me back, I used to have that view from my Office at The Royal Bath Hotel just round the corner, it brought back so many happy memories, not least the reasons I had asked Judi to marry me all those years ago… and here we were, 30 years later, still rubbing along … still just working it out every day.
We got back to The Hotel, I resisted the urge to go to the bar, I was still dry from January on my yearly fast… I had another 20 days to go. I was not missing it all that much frankly, and it was a major help on my weight loss plan…
I have to say though I was not looking forward to the morning.
The First Walk and Beyond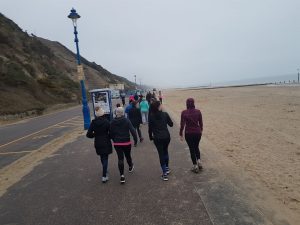 We were up and at em, we went down the East Cliff, ( My God, This means, I will have to walk back up!)
I was struggling, at the back. Judi went to play in the sand… I was just having a bad day, and we had not even started climbing yet!
I struggled on, yes, got back to the hotel. Yes, was wringing wet through, but boy, I was proud.
My parcel had arrived from Jacamo, so I rushed upstairs before breakfast.
I was determined to get better, so I showered, put on the cheap kit, and went down to Breakfast.

To see how I faired for the rest of the week
Also about "Tubby" here, falling in love with Yoga    ( I Know, Hilarious!)