One of the main reasons for my taking control of my weight over the last two years was the FEAR of losing my licence to diabetes
(If  for any reason you feel you may have the start of diabetes – Please get medical help…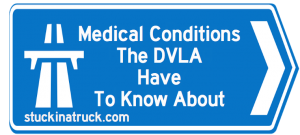 You Can Turn it around. For the tell tale signs of Diabetes CHECK HERE)
Why I am suddenly talking about stuff going wrong?
I had a chilling conversation with a friend over the weekend, his brother-in-law was recovering from his first seizure.
Never had a seizure before. The guy was joining a motorway, luckily his wife was with him and she was able to grab the wheel, pull them over, and knock the car out of gear.
The full details of the seizure are not the point of this blog… However a fit of any kind means an automatic suspension of your car licence for 12 months and a loss of your Heavy Goods entitlement for a minimum of 5 years
Actually the rules read slightly differently, this is from the DVLA site
You've had a one-off seizure

Before you reapply for your licence, you must show:

you haven't had an epileptic attack for 5 years
you haven't taken any anti-epileptic medication for 5 years
That is pretty tough… If you are unsure wether you should report Please click the image To take you to the .Gov site
The Important Thing Is – They Are Both Alive
But how do they deal with the aftermath…
Automatic suspension of licence
Loss of earnings
Loss of expenses
The Suspense of waiting for the next fit so the period of suspension gets extended …
Oh Yes … every time you have an episode the clock re-sets…
Don't Panic
Look I get it … if you are anything like I was in the past, you are probably carrying extra weight in the finance department…
I know, when I had scheduled surgery planned, I was looking at 4 to 6 months on basic salary ( Panic Mode [ON] )
(NB. At that time, the guaranteed overtime made up to nearly 38% of my normal take home pay) As soon as I went on the sick I was 38% worse off.
I was carrying quite a lot of credit card debt and then there was the mortgage, and … well you get the point.
Take Control
Before I went on the sick I put a lot of things in place, to make sure that the bills were going to be covered
I sold the Caravan, and my Shogun, that release of capital made sure that we were safe.
I had also started an online business on the side ( this was a major breakthrough and is where I have learnt how to build sites etc …If you would like to know more check here ) and was looking to build this during my time off the day job .
When things went wrong, out of my control, I was suddenly looking at 12 months off work… I had made no provision for this, and suddenly the world I had been shoring up, the credit cards, that I had been using to pay other credit cards, the 0% interest cards were suddenly lining up to pour interest on …
Luckily I had very wise friend who had been through this sort of thing himself…
He saved me a huge amount of stress and worry … when I started listening to him … there were two trips to A&E before that, with suspected heart attacks which actually proved to be stress!)
The Best Advice EVER
Make a list of everyone you owe money to
Everyone that you pay monthly
Split those into Essential ( Mortgage, House-fuels, Tax, Council Tax,)
Non Essential / Unsecured ie credit cards, store Cards TV Subscriptions
Get In Touch With the Professionals…
Just Click The Image :
StepChange
Citizens Advice Bureau
Speak to these people and get yourself an honest Financial statement done
This will also require you to know where you stand with regard your income, so get hold of your HR Department and get them to tell you honestly where you stand … it may be that they will keep you on full money for a period of time… but we do not know, and you need to get answers.
By finding out the state of play … you can get things under control.
By working with the debt charities I was able to get a financial statement sorted fast and sent these to the companies I owed money to. I also made an offer of reduced payment on the advice of Stepchange.
So my monthly outgoings on CreditCards alone went from £1200 a month down to just under £125…
These creditors are really understanding when YOU COMMUNICATE…
They Only Get heavy when you ignore the problem…
I also got in touch with the mortgage company and they gave me a 3 month break…just while things settled down and we knew exactly where we stood.
Are you getting the picture? I have to be honest, When I went bust in the Shop Fitting Business, I muddled through for months thinking I could handle it, and that something would change and everything would be OK … I buried my head and just kept paying everything, terrified that our creditors would send the bailiffs in, taking all our stuff… I even borrowed money to buy time, and used the loan to pay back other loans… Madness… but who knew?
Please, if ever you face this stressful time, get professional advice …go to Stepchange or The CAB
I know people think that the CAB are just a bunch of knitting old biddies… BUT the creditors Your CREDITORS, will listen to them
I hope you never go through this, if ever you do… please reach out … All the advice I would give you is written here… but sometimes it is just good to talk …
Stuckinatruck.com is here to support you whatever you are going through…
If I can help at all I am really happy to
As to your weight issues
I am sure if I can do this… YOU  Can
Remember you can email me anytime at steve@steve-greenhalgh.com
I am always happy to hear from you and to help you with genuine weight challenges
I always recommend Slimming World  
Because …
If You Do The Work,
It Works!
Here's to your continued success