April 2017
Can I just take stock here a minute… let us just re-wind to May 2016…
This was me at #Truckfest Peterborough
Again me In New York 2016 … The Year Of The Seat Belt Extension
Do you know what amazes me …
well apart from the fact that
I did not have a massive heart attack, or
die from major organ failure, or
diabetes, or
sheer exhaustion from lugging that lot around…
Is that my wife
a)  let me anywhere near her at all…
 b) was still with me
And HAPPY!
I consider my self truly blessed…
Well this lady of taste and impeccable choices… decided to check out Woucher again… and she found us 3 Days in Malta for £160… not each … in total!
She then upgraded ( really splashed out!!! ) by £10 so we could have breakfast every day!!!
Late April 2017 and we are Sun Shine Bound!
Now I do not wish to go on about this … but do you remember the big ah ha moment for me at the start of this tale?
Check Back HERE if you are not sure… basically on my way to New York, May 2016
I had to have a seat belt extension…
it was a massive shock for me  … but hey guess what happened on the way to Malta!
You got it … NO seat belt extension and more than six inches to spare!
I was so pleased.
Habits Form Us
This may be a new concept for you, but if you practice something for 30 to 60 days it eventually becomes ingrained into your behaviour…
So you just carry on doing it.
I have to say in the past I would have reverted to type whilst I was on holiday…
Beer
Sex
Food
Beer
Beer
Beer
Food
Sex ( Please)
By now, the Slimming World way of life, watching what I was eating, taking care over how much I was drinking…was just that
A WAY OF LIFE
Did I abstain from drinking all holiday, again … do NOT be Fucking Stupid...
We were on holiday, so of course we had beers in the sun, a beer with dinner… but … and this is the important thing… I did not just get hammered … incapable of walking … how fun is that?
I kept having fresh water in between beers, just to keep on plan.
It was not hard, it was normal!
And I was weighing in when we got home on Thursday…
Check this out…I walked … a lot… and I enjoyed it!
Yes you heard that right… when we were in Malta we did a lot of walking… looking at stuff… I enjoyed it. [HONESTLY]
No longer bleating away about being tired or thirsty… no I actually enjoyed it!
To be fair I was no longer carrying around 2 bags of cement… remember, that is nearly 110 pounds deadweight… No wonder it was more fun!
The best part was seeing the joy on my wife's face… she was just plain happy to have the old me back again…
I remember back before I was FAT, life was certainly different. We had 4 young kids for a start.
Things were expensive, things that people like to do on holiday… ice creams, cinemas, sweets, treats etc… even getting the kids to walk off the beach, and be happy … it used to be any one behind Dad did not get an ice cream…
Some days I would sprint up that hill to make sure no one got one as we just did not have the money… but in those days I could sprint… It was not hard …more often than not I would dawdle to make sure they all got one.
Malta was like being young all over again, except it was pre children young … we could eat when we wanted, drink if we wanted to… and explore all day long…  and we did… and guess what … I loved it… ( oh and yes if you could keep this quiet … plenty of SEX!)
You can check the photo album from Malta out here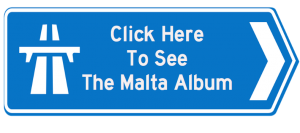 The single most important image from that holiday for me is this one though… look at the weight loss for the 27th of April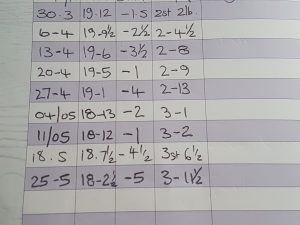 That was the day we got back from HOLIDAY!
4 pounds OFF  …  BOOM
That means that I have successfully interrupted the cue behaviour reward loop
It is really difficult to adopt new habits, or even to change old ones… and my habits around food are so entrenched after years pf abuse I am amazed that I have achieved it.
Does This Mean I Can Relax?
 Certainly not … I have been here before, on the brink of success and then floundering in the final approach… I do not want to be the Nearly Man of Slimming World thank you very much!
So how do I keep on track? Well the changes I have made, have to become permanent…
So I must continue attending Slimming World, having their support has been invaluable to date, and as with anything, from the Civil Rights movement in the 60's, to the Olympic Glory of Mark Spitz, habits make us… and staying in control of our  environment, is essential.
The joy of Slimming World is not just the support, but the fact that target members can attend for free. So as long as you are 3 pounds either side of your target weight you are allowed to attend and participate in the group, Why Wouldn't you?
This is a lifestyle change … want it to stick? … Stick with what got you there in the first place
So What about You
What are you looking for?
If It is a quick fix, I am sorry to tell you … they do not exist.
Have you tried to do this on your own? I know I did, along with a very supportive ( loud ) wife… ( Want to accelerate your divorce… try staying the course with just her… A bit like teaching a pig to sing … she will annoy you and frustrate herself.)
I have to say, much as I was put off by the thought of a village hall full of rotund females, and having seen Peter Kay, I was really not sure that this was for me.
BUT it WORKS   especially, if You Work It!
If you want to chat or ask questions,
Please Email Me Here   and we can get together either on skype [Skype handle steveg6i7] or contact me through Facebook. or email.. I have nothing to gain, no financial reward by helping you… but I want to help as many people as possible in the same way I have been helped
 All My Contact Details Are HERE  

PLEASE USE THEM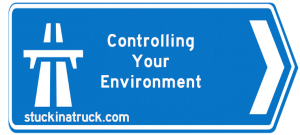 Click Here To Learn How To Control Your Environment